Before creating a website, you need to consider two main things:
1. Domain Name
2. Web Hosting
Getting a good domain name and an affordable hosting is the priority of any webmaster.
Finding a good domain name registrar is easy. There are a couple of reputed domain registrars providing good domain name service.
In case of web hosting, you need to find plans suiting your needs (eg. bandwidth, monthly costs, etc). Cheap Web Hosting is a free and easy to use website dedicated to helping website creators, both new and old, find the web host that fits their particular needs. Using this site, you can browse through more than 200 approved web hosts with over 400 cheap web hosting packages listed.
If you Google the term "cheap web hosting", you'll find about 46,000,000 search results. Alternatively, Cheap Web Hosting lets you quickly compare different hosting providers by price, disk space, bandwidth and number of domains per contract. Easy huh?
How to use 4CheapWebHosting to find your required host?
At first, when you visit the site, you may find it confusing. But, don't worry, it's quite easy to use.
On the left hand side, you'll find a quick search tab to let you find a hosting provider based on monthly price, disk space and platform (Linux/Windows). So, when I filtered the results to show price below $5, around 500 Megs of space and Linux platform, I got about 20 results to compare from.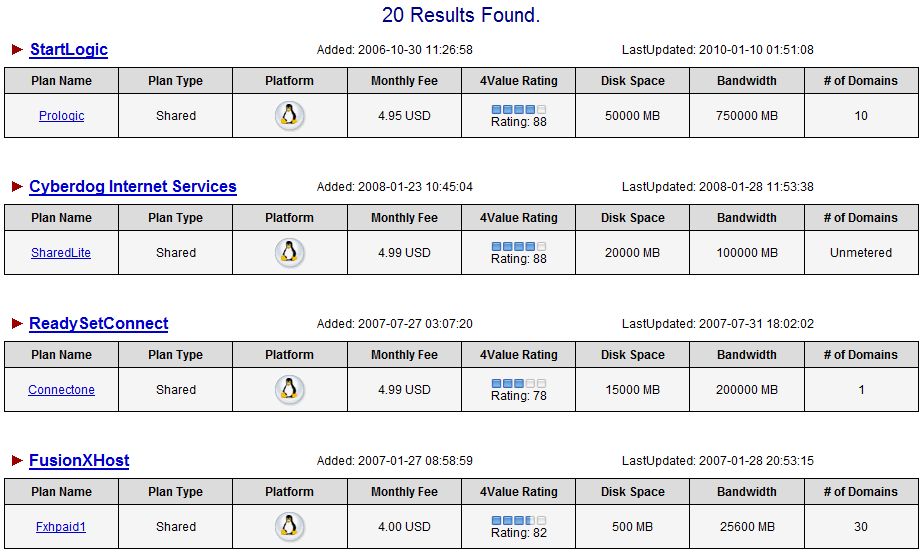 The results also show the rating, which is calculated by 4CheapWebHosting.
The site also shows top rated hosts and gives a series of tutorials created to help webmasters create, host, and start their website. Some of the tutorials include web design tools, how to purchase a domain name, and choosing the best web hosting service.
So, tell us do you use any such websites to fulfill your web hosting needs?