Affiliate Marketing is a major source of revenue for most bloggers and webmasters. Marketing the products is carried out via forums, websites, commenting on blogs, email lists and social networking sites. With such large number of channels, measurement of affiliate activity becomes a difficult task. You don't want to waste your time promoting affiliate products to the wrong audience by placing links on site that does not yield any clicks or has a very low CTR.
Also, hiding affiliate links from Google is essential to avoid getting penalized. There are couple of ways to do this. You can do this via modifying .htaccess file, using WordPress plugins or using some kind of server side softwares. I don't use any kind of WordPress Plugins or server sided softwares, just the .htaccess method.
To try something new, I recently registered at an affiliate tracking site called LinkTrackr. It is a tool which monitors every affiliate link of yours. With this tool you can create affiliate links and measure every affiliate link to understand which affiliate products are doing well and which are not. The site also provides URL shortener to promote your links on websites.
A shortened URL of your affiliate link may look something like this:
http://maheshkukreja.linktrackr.com/lt
As you can see, the initial part is your username and the part after '/' is the shortened part.
Here are some of the features of LinkTrackr:
Link cloaking and link tracking
Viral bar – helps you to share your cloaked links on FaceBook/Twitter
Custom domain names (one for free account and  the limit increases for Premium plans)
WordPress plugin – for easy management of links on WordPress blogs
The new features of LinkTrackr include A/B Split Testing and Conversion Tracking.
With A/B Spliting you can choose different landing pages for the same affiliate links. You can set the amount of percentage for different landing pages. This is a very nice feature.
With Conversion Tracking feature you can track multiple sales conversions (and sales amount) with just a simple code that you need to place on your website. You can check the traffic sources and manage your campaigns.
Here is a screenshot of an affiliate link cloaked by me. You can edit the link to include customized title, meta keywords, and also a viral bar, which includes social sharing options, etc..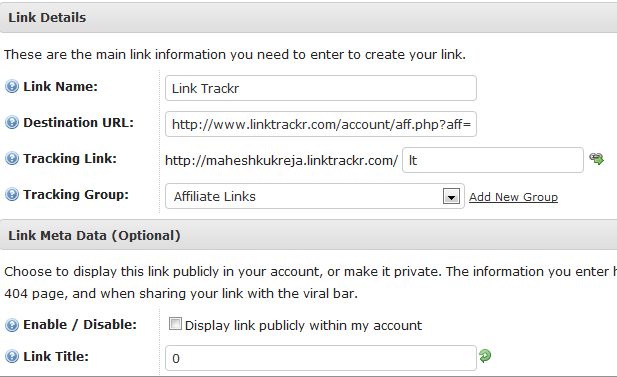 Then, you can check how many times your link has been clicked.
I have registered for a free account. Premium accounts are also available with higher tracking links and more branded domains.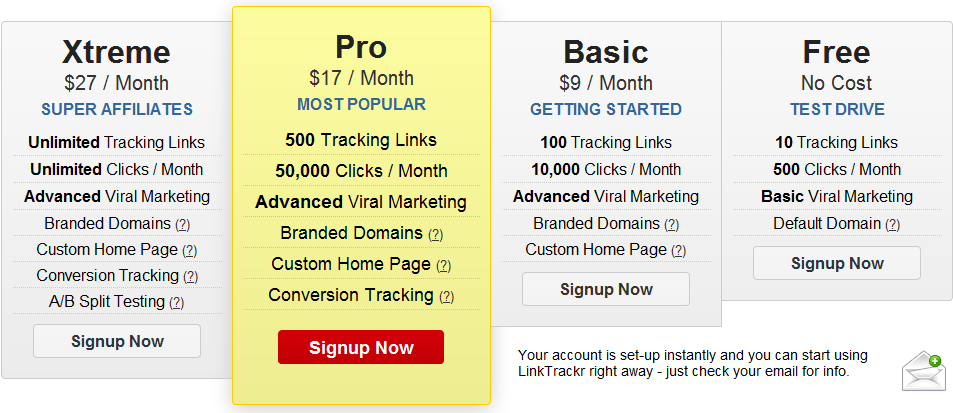 The Pro plan is the most popular one and the Xtreme includes unlimited features.
LinkTrackr also contains User Guides which help you in cloaking links, using their WordPress plugin, using the Custom Domain feature, etc.. LinkTrackr can increase productivity levels to give you a good picture of which affiliate campaigns are working and which are not.